Projects
Apartment construction works in the residential project Skanstes Parks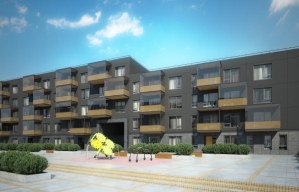 Client: Merks Ltd.
Main Contractor: Merks Ltd.
Subcontractor: Apprime Ltd.
Location: Vesetas STreet 15, Riga
Project duraration: November 2016 – August 2017
With the construction of 130 new apartments in three houses, the development of the project Skanstes Parks has been completed. The territory has a well-maintained public park with an area of 21,000 sq.m, children`s playgrounds and underground parking lots. The total area of the buildings is more than 12,600 sq.m, which is occupied by 2-5 room apartments.

Within the framework of the agreement, Apprime Ltd. performed the construction of partitions and ceilings of 10 apartments, as well as painting and tiling works and the final finishing of the staircase. The total volume of the performed works was 1200 sq.m.

In the competition "The best building in Latvia of the year 2017", Skanstes Parks buildings in J. Dikmana Street 4 and Vesetas Street 15, Riga, won the 1st place in the category "New residential building".
Services: