Projects
Maras Darzi apartment interior repairs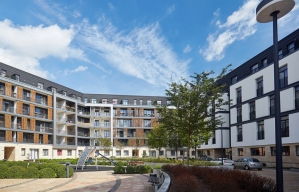 Client: Latectus Ltd.
General Contractor: Constructus Ltd.
Subcontractor: Apprime Ltd.
Location: Liepajas iela 2, Riga
Project duration:
Stage 1: January - June 2013, 20 apartments
Stage 2: February - June 2014, 19 apartments
Stage 3: June - December 2014, 34 apartments


Stage 4: May - December 2015

, 15

apartments


Stage 5:

January - March

2016, 9 apartments
Stage 6: February - July 2016, 6 apartments

Since the beginning of 2013, we carry out apartment indoor construction and finishing works in the new residential project Maras Darzi in Agenskalns.
In case of simple construction work with space replanning we perform construction and finishing works in accordance with agreed interior design project. In case of extension of the housing by merging several apartments, rebuilding and strengthening the building load-bearing structures the works are done in accordance with agreed construction design project. Besides the variety of general construction and finishing works, we also carry out all construction and reconstruction of apartment engineering communication systems.
In accordance with the interior of each apartment, we only use high-quality materials, plumbing equipment and engineering services.
Completing the sixth stage of the project has resulted in a total amount of 103 well-furnished apartments with a total area of 8 250 m2.
Services: