Projects
Vidzemes music and cultural center in Cesis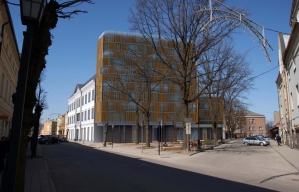 Client: Cesis City Council
General contractor: UPB JSC
Location: Raunas Street 12, Cesis
Project duration: August 2012 - April 2014

Construction of Vidzemes music and cultural center was launched in 2011, started with restoration of a local monument of cultural and historical significance in 12 Raunas Street, Cesis.
The multi-functional Vidzeme music and cultural center locates acoustic concert hall with 800 seats, as well as a small concert hall with 100 seats and organ hall with 99 seats, classrooms for Alfreds Kalnins Cesis College of Music, rehearsal rooms for Vidzeme Chamber Orchestra, choirs and dance groups, public music library, a café, as well as exhibition hall and Cesis district cultural Bureau.
Since August 2012, Apprime Ltd. was responsible for construction of domestic water supply and sewerage systems:
installation of cold and hot water supply
construction of drainage systems
erection of a collection and sewerage systems for domestic waste water, technological waste water and rain water

The project was funded by the European Bank for Reconstruction and Development and co-financed by Latvian state and Cesis district municipalities.

Services: