Projects
Apartment construction works in a residential building in Riga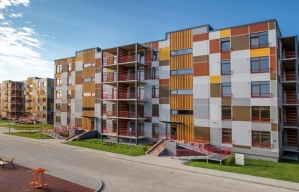 Client: YIT Construction Ltd.
Main contractor: YIT Construction Ltd.
Subcontractor: Apprime Ltd.
Location: Assembly of apartment residential buildings "Pines" on Pupuķu Street 5, 7, 9, 11, Riga
Project duration: May 2016 – October 2016
The multi-apartment building complex Priedes is located near the Riga border in a beautiful pine forest, offering a peaceful and green environment combined with a well-developed infrastructure.
On behalf of the main contractor, Apprime Ltd. carried out the inner construction of 16 apartment partitions, ceilings, final painting and tiling works, as well as the painting and tiling of the stairwell.
Total amount of finishing works performed: 1,200 sq.m.
Services: